Today has been a good day. I usually post early in the morning, but I wasn't finished with my pages so I waited. I got some work done today and was able to get my three pages for Helen, GA done. Three more pages finished for the album headed to Australia soon. Oh my... how many more pages to go! Next on the agenda for the album are the photos from the Bed and Breakfast we stayed at in Dahlonega, GA. This is the second time I've stayed their, the first was with my oldest daughter when we went to see the school there. That is the school she will be going to in a few months. The school is
North Georgia College and State University
. Although, they just had a new name approved,
University of North Georgia. It is a beautiful campus up there in the Georgia Mountains. Back to the Bed and Breakfast, it is the Long Mountain Lodge Bed and Breakfast . They have been amazing both times I've stayed their. They make an amazing breakfast in the morning. It is a beautiful place to go to not too far from home, but it takes you away.
I had to go to Michael's Craft Store today. So I packed up the kids, we ran in there, then headed to the pet store for cat litter, and then on to the CD Warehouse. I let the kids each pick a CD and we came home.
Here are my layouts finished today: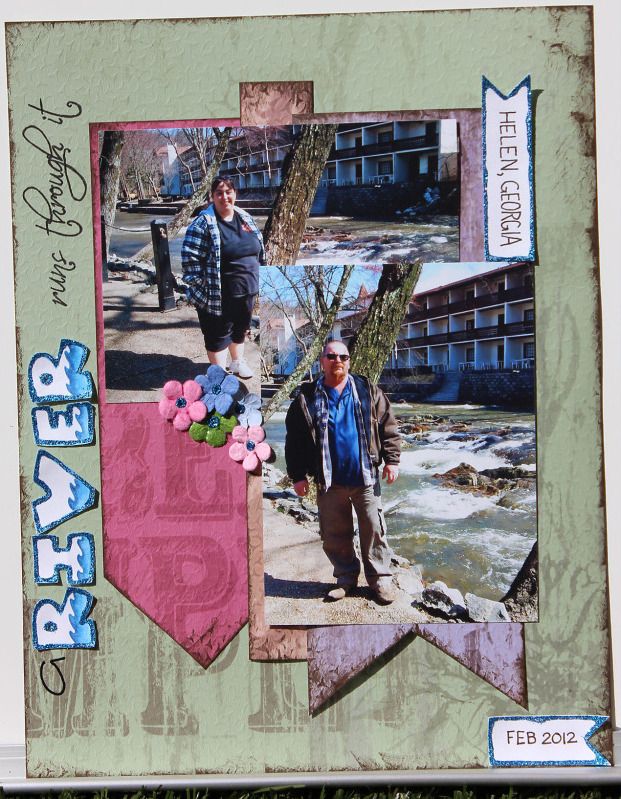 Helen, Georgia is beautiful. It looks like an Alpine Village.. all of the buildings have that look. It's a fun place to go. The Chattahoochee River runs right through town. I used stickles, all of the paper is old Club Scrap papers that I hadn't used. The "A" is a Doodlebug rub-on, the "RIVER" is PC Wave font, with stickles around the edge and watercolor pencils I used to color them. The "runs through it" is hand written but made to look similar to the Scriptina font.. I used my handy dandy ZIG millennium to write it. The blooms are from Recollections at Michael's. Got those on clearance Woot! The Helen, Georgia and Feb 2012 are also hand written with the ZIG. I inked all my edges with Walnut Stain Distress Ink.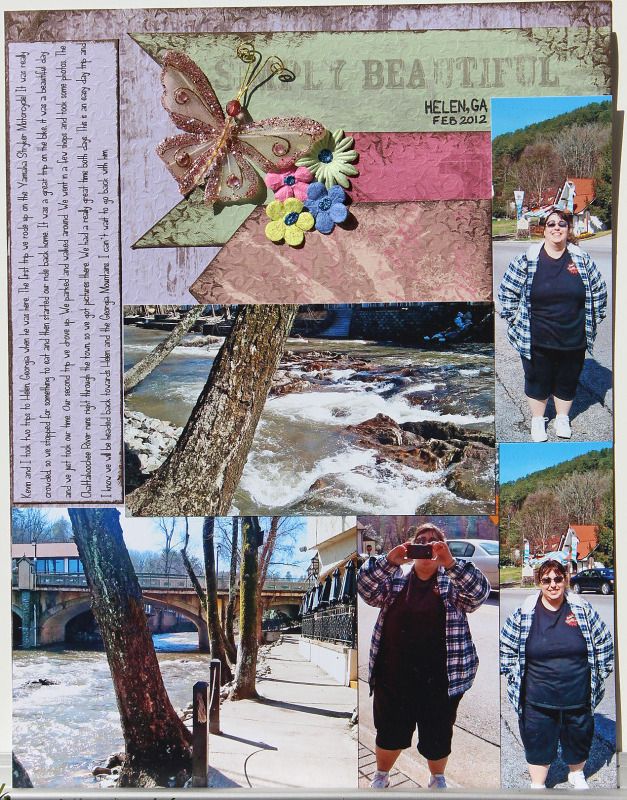 Same papers here, the Club Scrap older papers. The butterfly and blooms clearance at Michael's LOL All Recollections. And all inked with Walnut Stain Distress Ink. The journaling was done with a CK font and I can't for the life of me remember what it was. I really need to write it down. I usually leave it open, but I closed it today!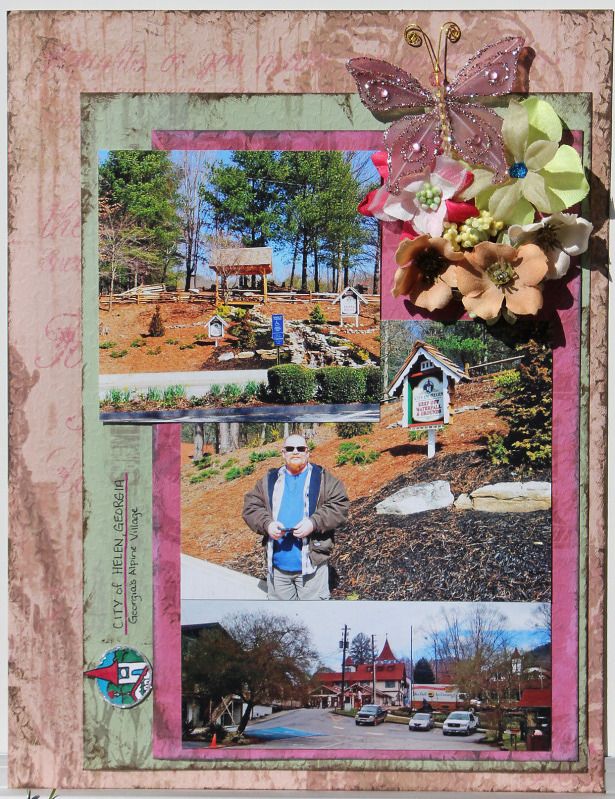 This is the last page.. same papers from Club Scrap. Blooms are random ones I have in my tackle box. Butterfly from clearance at Michael's. I went online and printed out the symbol from Helen online and then colored it to make it a bit brighter. I hand wrote the City of Helen, Georgia and Georgia's Alpine Village again with my handy dandy and favorite ZIG millennium. Everything inked with Walnut Stain Distress Ink.
It is so fun to look back at these and see him. Oh, I want him home so badly.
One more item of business really quick.
Ginger Snap Scraps is having a Fantastic Giveaway:
We are so excited about the new Lawn Fawn stamp sets that we are giving away all seven of them to one lucky winner! Follow the link to
Scrap and Chat for more details! See the stamps below... Aren't they wonderful! I LOVE the Aussie stamps; how couldn't I LOL! :)
I hope you all have a wonderful rest of your day! I'm off to throw together some dinner, pick up my mess, pick out some new papers and see what I can do.