Have you ever heard of
Geocaching
?
Geocaching
is a real-world outdoor treasure hunting game. Players try to locate hidden containers, called geocaches, using GPS-enabled devices and then share their experiences online.
It is so much fun and I love to do it with my kids too. Although, Michael isn't so excited to get out there and hunt for a cache as much as Taylor, Bailey or I am. In fact.. it's the men in the family that don't enjoy it LOL.
People place caches all around; they are everywhere, all over the world. I have seen some amazing sites/views while searching for a cache. I started Geocaching with my android phone when Taylor and I first went to North Georgia to visit the University there. It uses a GPS and guides you to the location of the cache, where you in turn have to search for the cache. After you do it for a while you learn different places to look for the cache. Some are really hard to find, others are pretty easy. And the cache can be anything from a small little metal tube to a large plastic container. You sign your name and put the date that you found the cache. In some of the containers you can even take something out and then you put it into a different cache so that it travels. Some of the "Travel Bugs" you can even track online. It is a lot of fun. So it is just an interesting outside activity that I have been able to enjoy with the family.
Yesterday was your average work day. I was able to get one of the Dahlonega pages finished last night. I'm hoping to finish the final Dahlonega page or pages today. For the page I did last night I used a
Let's Get Sketch!
- Sketch Challenge #16. I'm having to adjust these to the small 8.5 x 11 pages to finish this album. I'm getting so close to the end!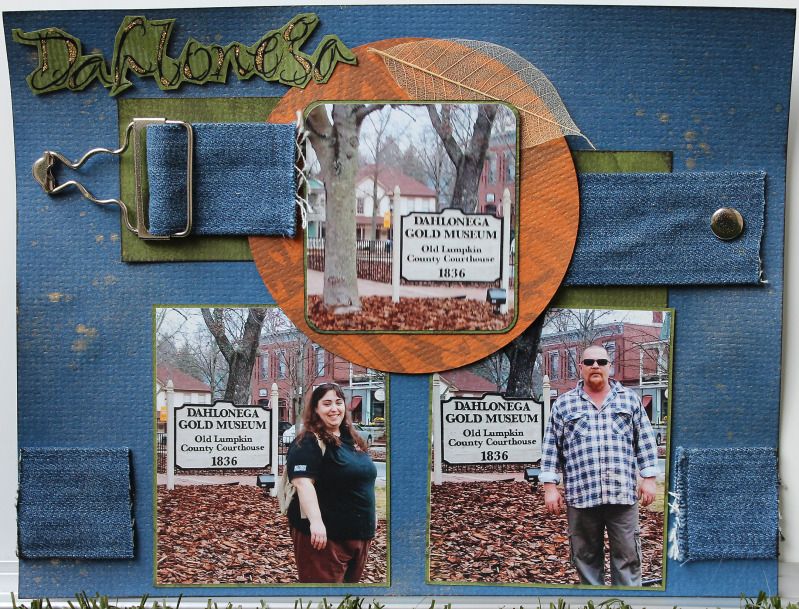 I used more Club Scrap papers.. Love these papers and I couldn't wait to use them. I inked with my favorite black ink stamp, Palette. The jean and metal embellishments came out of the Club Scrap box. I added a little gold glitter to Dahlonega.. since Dahlonega is all about the Gold Rush. This was us standing in front of the Gold Museum sign. I also added some Glimmer Mist - Gold to the page and added the leaf which I have no idea where it came from. I knew I had it though and I searched for quite some time last night! One or two more pages of Dahlonega and I'm finished with that.
Thanks so much for looking! And commenting :) Makes my day! Hope you all have a great one today!