Good morning everyone!! It's time for another challenge at
Crafting When We Can
... We are on Challenge #33 and our theme this week is a BINGO card!!! I hope you enjoy this challenge as much as I did!! Our sponsor this week is
MilkCoffee
. On the Bingo Card I used Dots, Orange, Clean and Simple.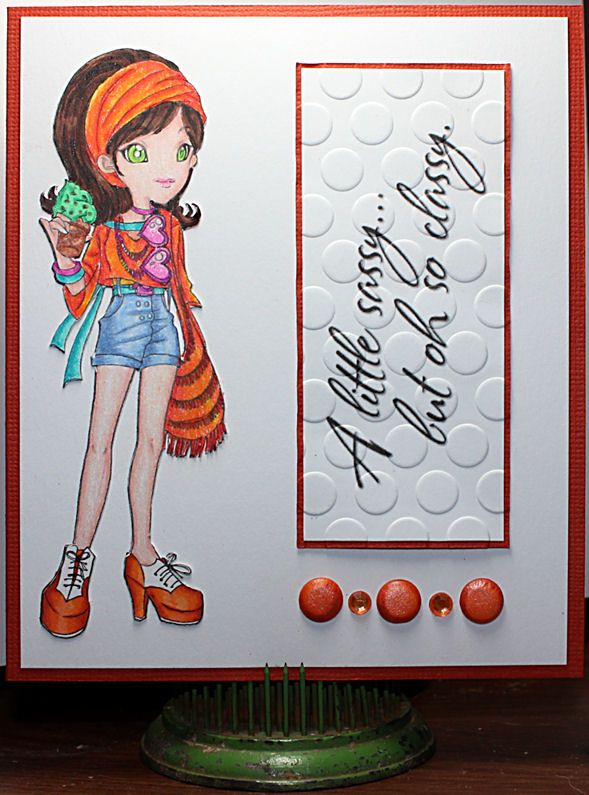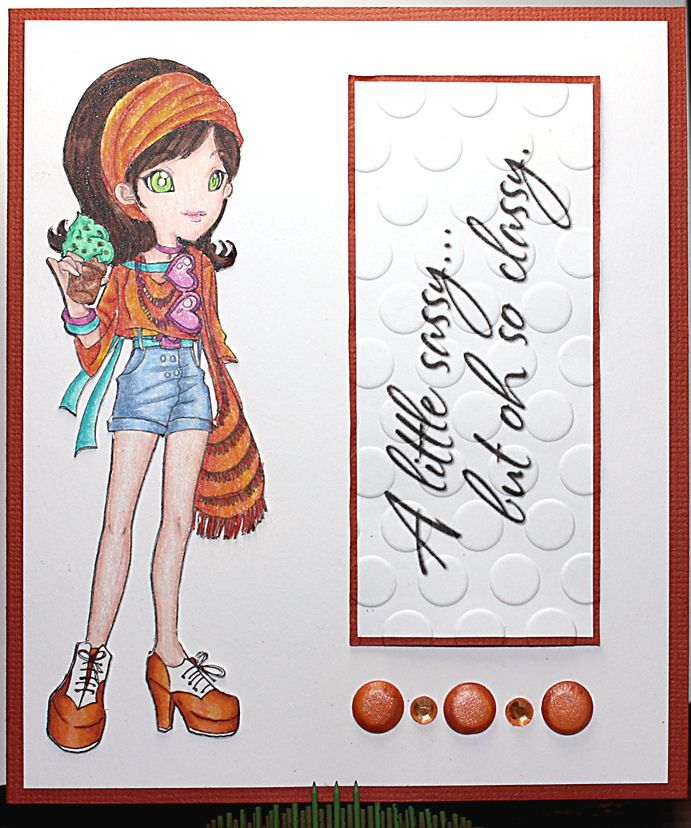 This is colored with both Copic and Prismacolor pencils. I used a Cuttlebug embossing folder. The image is
Madeline and Neapolitan Ice Cream from MilkCoffee
. I used orange rhinestones and Candi - Icing Sugar.. which I colored orange with my Copic YR18 and YR16. Thats it... I colored the ice cream cone mint chocolate chip LOL Because it's my favorite!
Challenges:
I am so behind on everything. This past week was full of everything between Christmas and Immigration.
When I last posted Kevin was about to head to his interview. His interview was last Tuesday at the American Consulate in Sydney. He was only in there for a couple of hours and we had our approval. His plane didn't fly out until that evening, so he had a day to waste in Sydney. Then he hopped on a plane back to Brisbane. They had told him it would take about 5 business days to get his Visa and they had given him a tracking number. We weren't going to book a flight until we had that Visa in his hand. So, he hopped on his bike and was SUPPOSE to get a hotel/motel, but no.. the man rode all the way home IN THE DARK! Where there are tons of kangaroos and he knows better. He made it home safe and sound and now the waiting begins. Now its Tuesday evening. Wednesday and Thursday he starts to prepare what he needs to do to finish up there. We get off Skype on my Thursday morning ... his Thursday evening and I headed to work. I saw an email from Sydney and they had sent the paperwork out!! It was only suppose to take a day, but they mailed it late so it wasn't going to get there on Friday. We didn't think he would have it in his hands until Monday at this point, but we knew it was on the way. He booked the flight for this Wednesday. He went by the post office on Saturday morning and they had the package. He sold the caravan, sold the bike and he left Clifton Saturday evening. I can't believe how quick everything has gone. He flies out in 3 days!!!
On top of all that I have five adopted families that I had to get Christmas for. Three of the families were adopted by my office. I collected gifts and money for these three families. Each family had three children. I collected over $1K for these three families and then my sister came down and we went shopping. I tried really hard to get what was on their wish lists. One family was adopted by my family, my sister and my mother. The last two families were not adopted and I told the church I would help shop and get Christmas done for them. That was five families that I had to coordinate and shop for. Then I had to wrap all the gifts and deliver them yesterday!! I spent the entire day wrapping gifts and delivering. I don't regret a thing though.. It was really great to be able to do that for those families.
Also last week, Bailey had her first Orchestra concert. That was on Thursday evening. It was the 6th graders, then the 7th graders and finally the 8th graders. It was amazing to see how each class improved as they learned more and had more difficult music to play. It was a great concert.
I have also had an extremely week at work, have had to coordinate Christmas parties there and ... well!! I'm just exhausted and behind in all of my DT responsibilities!! In fact.. I have to get a card done tonight and I haven't even had time to start on it.
So to wrap all that up LOL I've been super busy and Kevin will be here on Wednesday and I'm getting married on Friday!!! Woot!! :) Now we are off to church at 9:30 am and then the Children's Christmas Musical at 10:30 am. All of the Christmas families are invited to church as well!! It will be a busy day LOL Hope you all have a wonderful day!!!!