Happy, Glorious Sunday morning everyone! We will be heading off to church soon, but first I will tell you about the all new challenge being hosted at
One Stitch At A Time
this week! It is a fun Bingo Challenge!!
For this challenge I used "
New Fairy
" by Ike. This is Challenge #132: Bingo. I used Sentiment, Digi, Button, across diagonally. To make the background I used my mists and template. The buttons are from my stash :) Cute little buttons.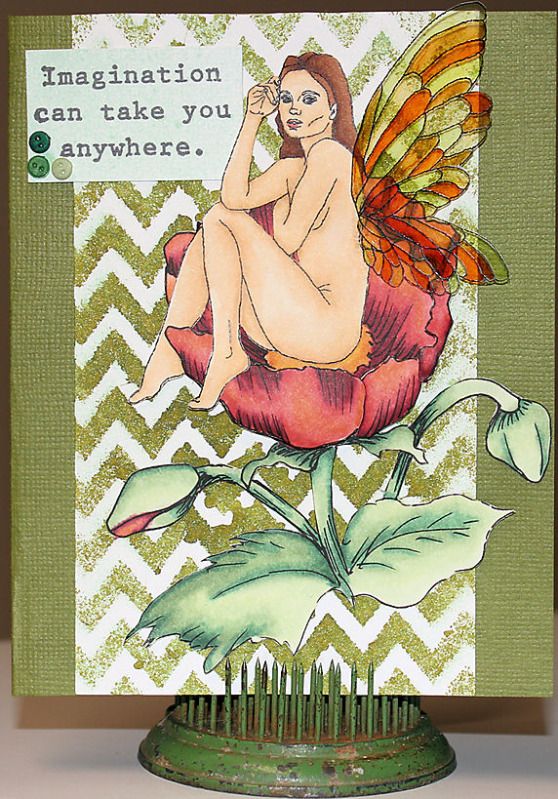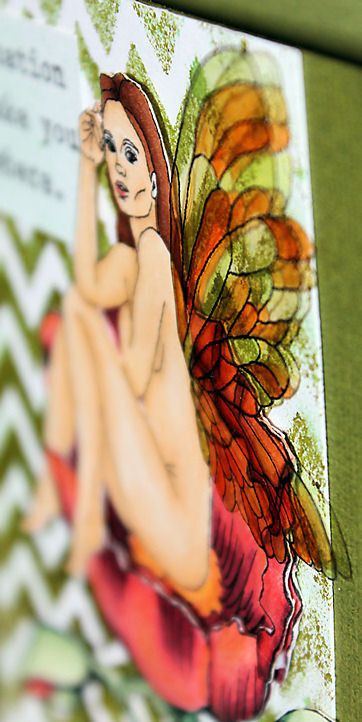 I colored everything with Copic.. and I didn't save my list so I have no idea LOL The wings are done with a transparency sheet. I printed it out, cut it and then colored with Copic. I've started writing down my supplies LOL so I don't have this problem of not being able to remember.
Challenges:
It has been an interesting few days. Thursday I had a doctor appointment. They took blood to do a full profile and she thinks I may have acid reflux. I was dumbfounded LOL I have never had it..why would it be affecting me now! Well... we will see :) After the doctor appointment I headed into work and was able to get a bunch done.
On Friday I had to take my van into the mechanic. It was smelling like burnt rubber and smoking. They got me in there and took a look. It was an oil leak and they had to replace the gasket. I never like that bill! It is always expensive, but at least it was fixed. The two hour repair turned into a five hour repair though. I had to borrow my mother's car so that I could run home and get on a conference call. In the morning I worked outside the City Hall. I was able to log into the City's wireless and log into work. The connection was slow and not stable, but I was able to get some work done. I also took my mother to lunch. Her birthday was yesterday, but since I wasn't going to be around I took her to lunch on Friday instead. It was a good lunch. Overall, it was a good day, work got finished, conference call was attended, lunch was good, I was able to mail the documents that needed to be mailed to Kevin. I don't think there was anything else, but it felt like a really busy day of running around.Oh! I know what else... I took the bike that was going to bring to Taylor over to the bicycle shop. They did a safety check on it and make some adjustments. It is in good working order now and she shouldn't have a problem. I also got a rack put on it and two grocery type bags that hang off the sides of the rack and a chain to lock it up. It is really great and I hope she gets some use out of it.
Saturday morning I woke the kids up and told them to get busy picking up the house. I did the dishes that the kids never did the night before! and they picked up around the apartment. They didn't have a lot of time, because I wanted to get out the door. We were heading to Dahlonega to bring the bicycle to Taylor. Michael and Bailey had not been to Dahlonega yet either to see where she was going to school. It was a good trip and we did a lot of cadet watching LOL North Georgia University is a military school. A lot of the students that attend there are cadets. We watched them march by for quite some time. There was always a group of them going by. They marched and chanted to the Dining Hall. T-Bone went with us so he didn't have to stay in the crate all day. He was so good! It was a good day, but I was exhausted from all the driving.
And now we are on Sunday! Time for a great morning at church and then home to work on some cards. I love being ahead on all of the DT obligations. It really makes me feel good. I hope you all have a beautiful rest of your weekend and week to come!
Thankful
09/20/2012
I am so thankful that I like my doctor, Dr. Odell. I think she is wonderful. She listens to what you say and goes from there. She listens! That is such a big thing for me. I have not always liked my doctors :)
I am thankful for being able to deal well with the needle pricks. They can never hit a vein on me and they have to poke and prod.. it is awful!!! She finally got it in my hand... I hate needles! Next time I need to tell them to go straight for the hand.. don't touch anything else!
I am thankful for being able to get in to work on Thursday and get some things done. No one really bothered me.
I am thankful for the excitement that Michael has for drama. There is a special High School that focuses on the Arts. He really wants to try to go there. He will have to hard at it, but he is excied about something and that is WONDERFUL!
I am thankful for Kevin and how his with me. He tells me what I know is right, but I may not be doing so well. For example... Encouraging Michael on this new en devour. He tells me to encourage him.. not discourage.. be truthful, but hopeful. And! He gets excited for Michael.. which in turn gets Michael more excited. I love him so much for never holding something back... I'm so glad he talks to me like that. He is such a great man.
09/21/2012
I am thankful for the mechanic who always fixes whta ails the vehicles. I may not always like the bill, but it always gets fixed.
I am thankful for the Kennesaw Wireless which allowed me to sit outside at a picnic table on this beautiful day and log into work. I was able to continue work while I waited on repairs.
I am thankful that I was able to take my mother to lunch for her birthday. Her birthday isn't until tomorrow, but it was good!
I am thankful for my mother allowing me to use her car so I could run home and do my scheduled conference call for work.
I am thankful for all of the help and support I get from work and the vendors we work with. It makes everything so much easier.
I am thankful for being able to sit down and watch a movie with Michael tonight. We watched "The Help".
09/22/2012
I am thankful for the kids getting up and cleaning up the house before we left.
I am thankful for the safe drive to Dahlonega and back home today.
I am thankful for the bicycle shop across the street that adjusted the bike and made sure it was safe. I gave the bike to Taylor today equipped with a rack and two bags. Now she has some transportation on her own. A lot of students use bikes too.
I am thankful for the time we were able to spend at the college campus today and with Taylor. This was the first time Michael and Bailey had been up there.
I am thankful that T-Bone was such a good boy today. He was great on the ride up and back home. He was great walking around the square. He was just super today!