Good morning everyone and Happy Saturday!
This morning we have posted the winners and DT Favorites from Challenge #16 and this afternoon you will find the midway post for Challenge #17 at
Open-Minded Crafting Fun Challenges
! Our theme for Challenge #17 is Last Days of Summer. They surely are the last days too aren't they! Summer is pretty much gone! We have some FANTASTIC Sponsors for Challenge #17... but then we have some great sponsors always!! :) Here they are: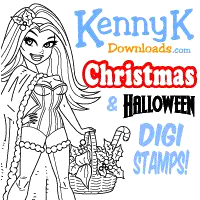 They are fantastic, aren't they! I love our sponsors.. please be sure to share the love! If it wasn't for their generosity, these challenges would not be as great as they are!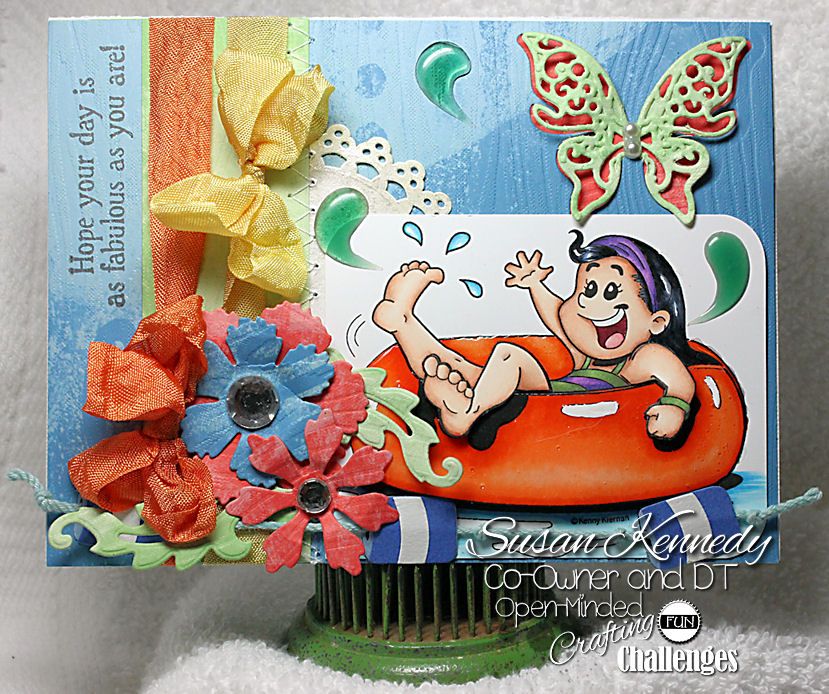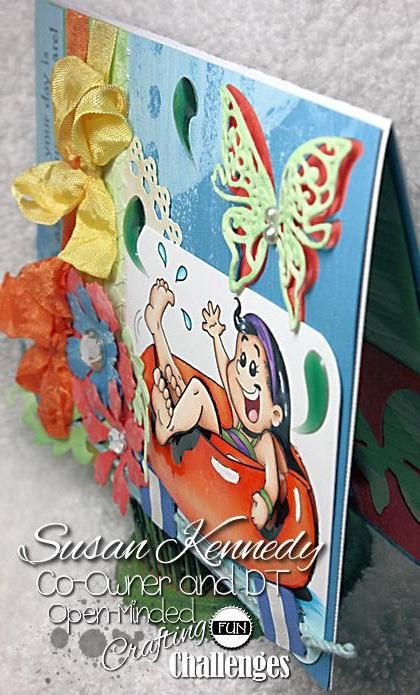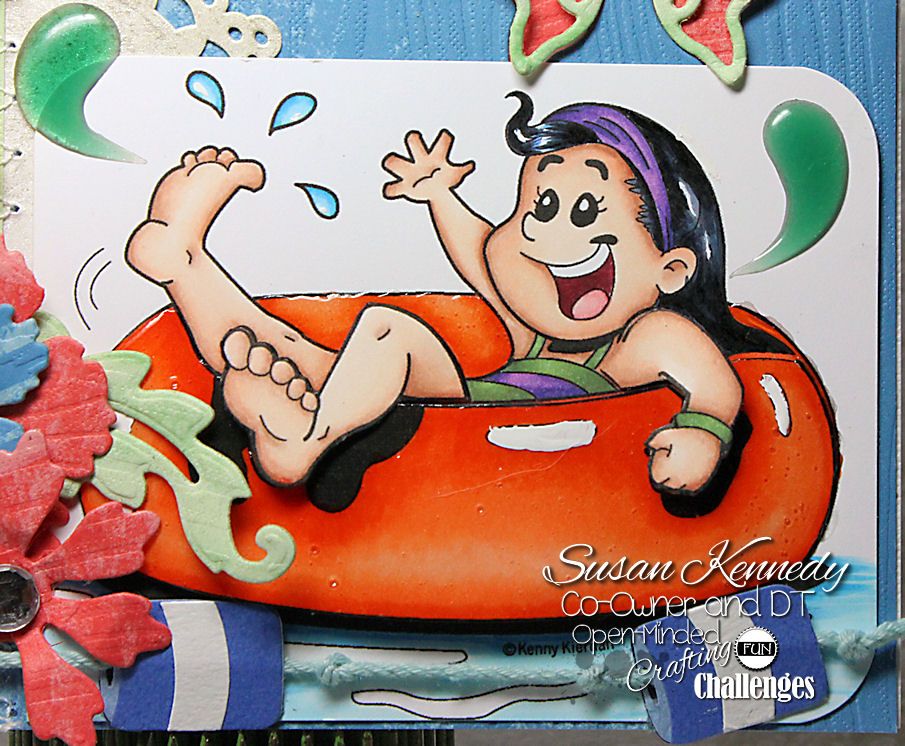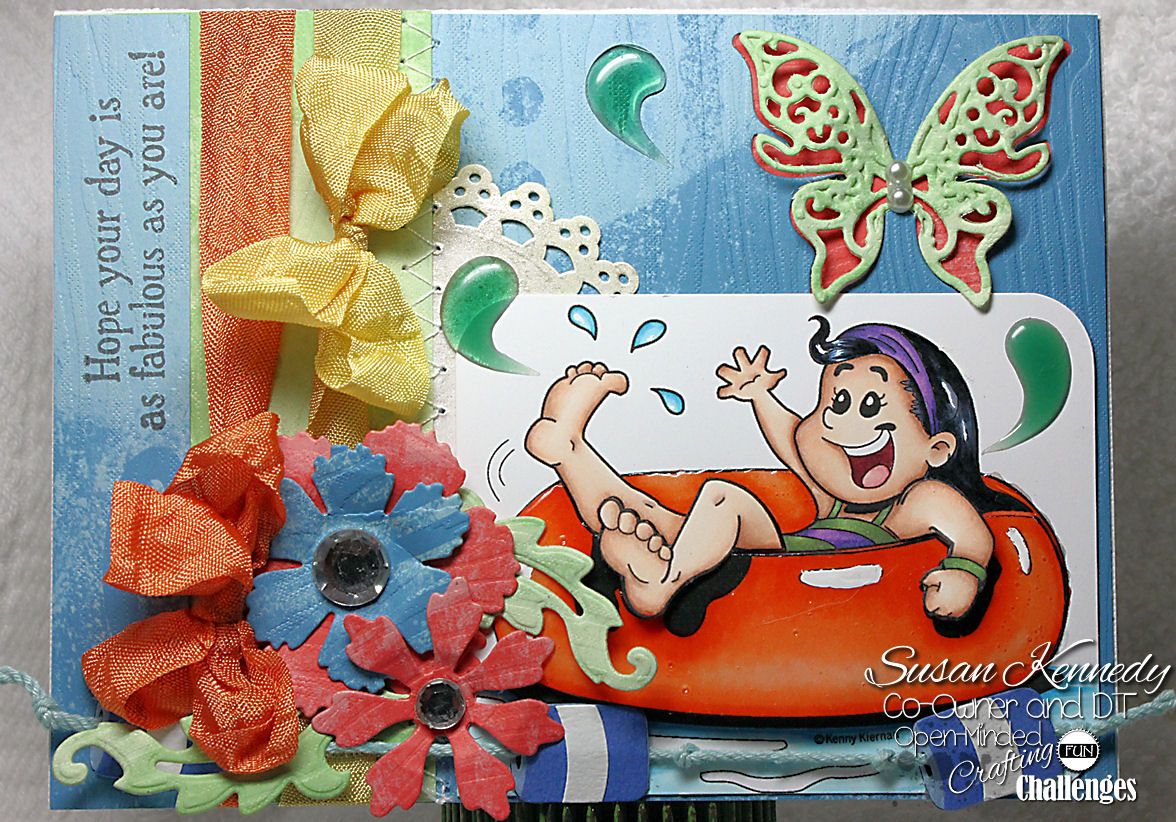 For this card I used an image from our wonderful sponsor
KennyK
. The image is
Inner Tube Girl
. I colored her up with my copic markers. I did a bit of decoupage.. I popped the inner tube and rounded it to make it really look round. Then I popped her leg and arm over the edge of it to give it that little bit more depth. The inner tube is covered with Diamond Glaze to give it that shiny plastic look. I added the pool line sticker at the bottom and the water drop stickers as well. These are from my stash from forever ago. I couldn't' even tell you how long I've had them. I added one line of stitching ... you can see it next to the ribbon. All of the papers are from scraps from another card I did. These papers are from Club Scrap. I used some negative butterfly cuts that I had in these papers on the outside and inside. I added the crinkle ribbon, the die cut flowers and gems. The stamp... well... I have no idea where that stamp is from LOL I think it was a Club Scrap stamp. The leaves are die cuts as well. The flowers are My Favorite Things and Spellbinders... the leaves are Spellbinders. The butterflies are spellbinders as well... I think? LOL And that will do it for this card.
COPIC MARKERS:
Inner Tube: YR61, YR65, YR68

Blue Water: B00, B02, B04

Purple Headband and Suit: V15, V17, BV08

Green Suit and Band:G82, G94, G85

Skin: E000, E00, E01, E11, E13

Hair:B24, C2, C4, C6, C7, C9

Mouth: R59, R89

Tongue: R11, R20, R22
CHALLENGES: