Good morning everyone!! I have been super busy at work and have not had time to post anything. But! I have gotten a lot done at work, a lot of Lacrosse games to see and we have been going, going, going!
Bailey has had Lacrosse practice every night after school. She has had two games as well. She did really well on her first game.. they ended in a tie. She stopped some penalty shots right at the end to keep the tie! I was so proud of her. Then, her second game wasn't so great. The team they played against was really tough. She got super stressed, her team really couldn't keep the ball. The were dropping the balls, they couldn't catch the passes, she would clear the ball, they would miss or get beat to it and they were shooting at her again. It was a tough game. I've tried to get her to understand to use those games as a good chalk up to learning. You stay calm, you keep your head and you do your best. You keep blocking shots and the more shots they take on you, the more practice and experience you are getting. I know that's hard to do in a game, but she can work at it :) She was making stupid choices and getting really emotional. She is a good goalie though. She just has to work through those things. So proud of her.. always!
Michael is passing all of his classes right now.. so that is a good thing! And he is working a lot. He is working a little too much. I don't think he is getting enough sleep, but you can't talk to him. He is a 17 year old and that's it... he thinks everything is fine LOL Oh well!
Kevin has had some Dr. Appointments. He is actually feeling a bit better over the past few days with his stomach issues, so we will see if what they are doing will work! He has to get a colonoscopy at the end of the month and he is REALLY stressing over that!
Me? I have been coloring, crafting and working and coaching Bailey and going to the Varsity and her JV games too. That has been it! Keeping really busy!
Okay... here is the card I'm sharing today.. this another Easter creation: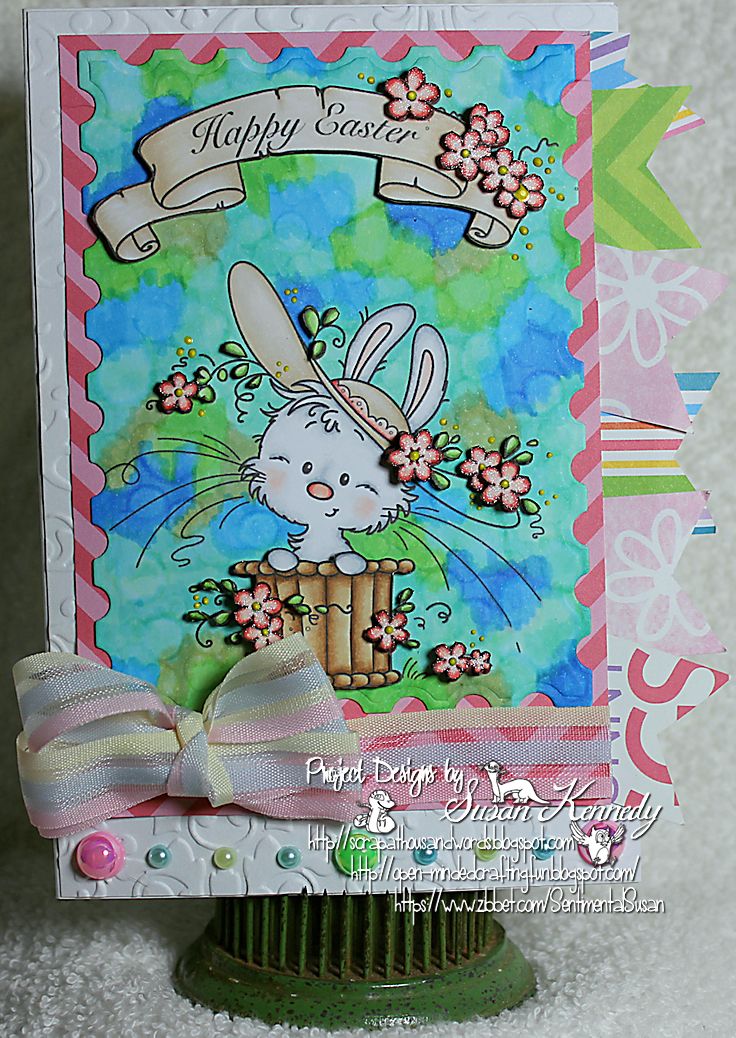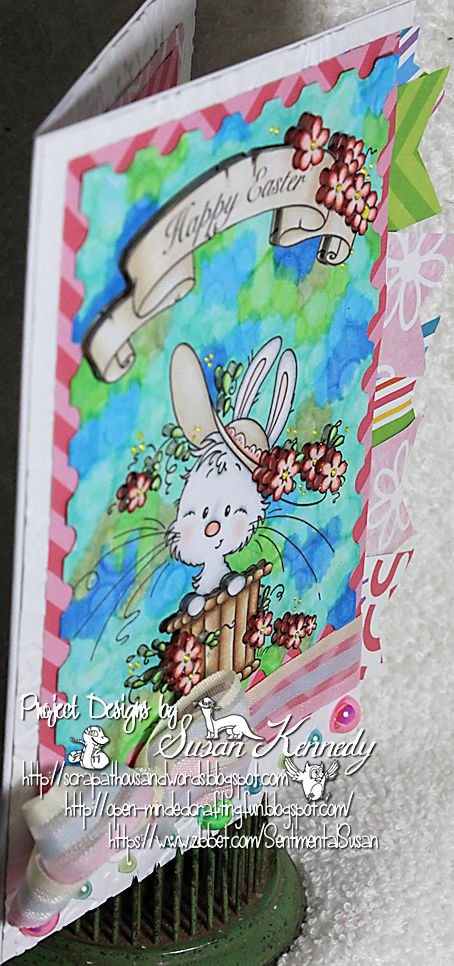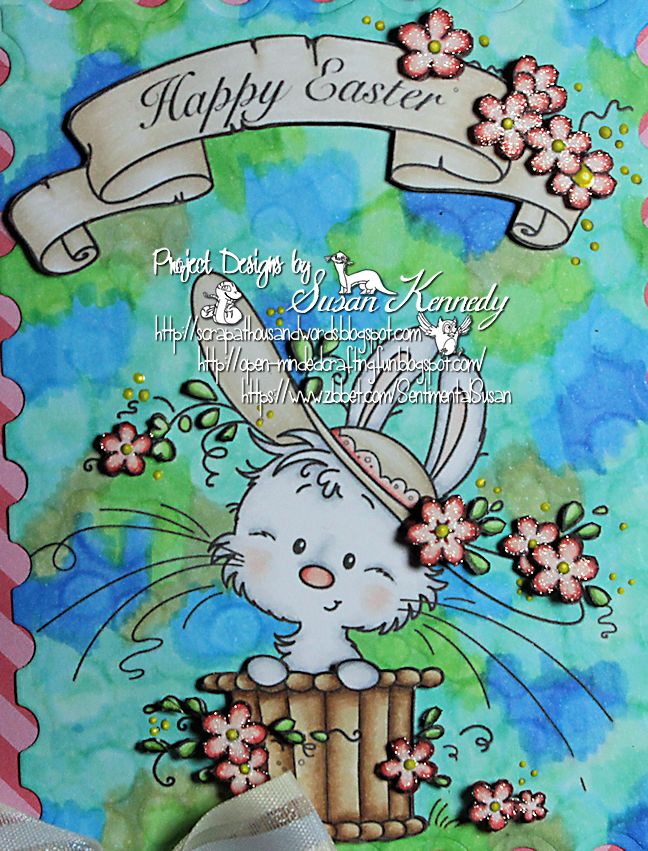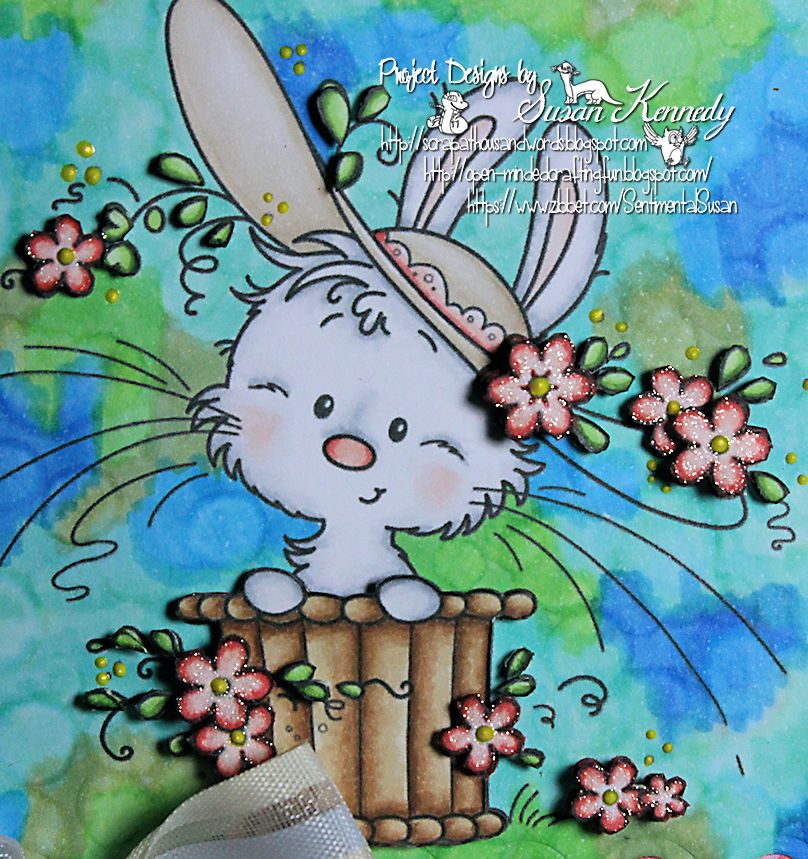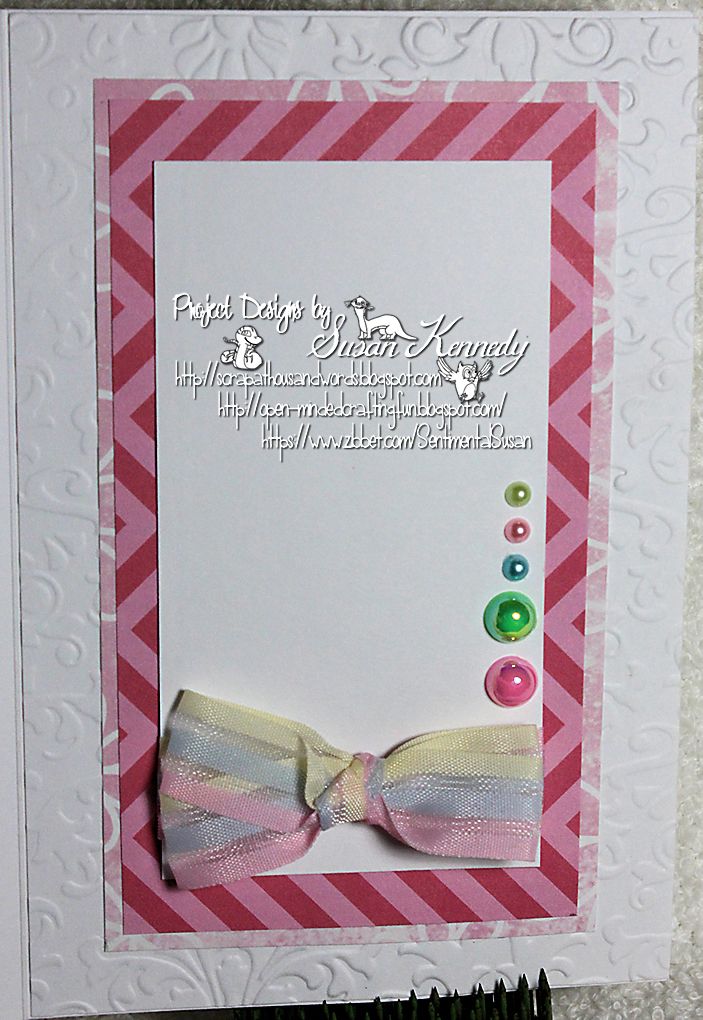 For this one I've used the new awesome Wee Stamp -- Bonnie. Isn't she just too cute! I've colored her with my Copic Markers. I've colored the background with Copic markers and some spotting with the Colorless Blender. I've popped up the banner, the flowers, leaves and the basket. I've used some Wink of Stella on the flowers and some dimensional paint in the centers of the flowers and the yellow dots around the flowers. I've done a bit of dry embossing, I've used quite a few different patterned paper scraps on this card. The die cut around the image is from My Favorite Things. I've also added those pearls at the bottom and some pastel ribbon to add to the spring/Easter pastel colors. For the inside I've used some patterned papers, ribbon and more pearls to finish it off. The embossing was continued on the inside as well.
Copic Markers Used:
Background: G24, G14, B04, B16, BG23, BG13
Flowers: R00, R11, R22, R24
Leaves: YG11, YG13, YG17
Flower Centers: Y11, Y15
Banner & Hat: E40, E41, E42
Basket: E31, E33, E35, E57
Bunny: R00, R11; C00, C1, C4
Challenges: