Good morning everyone! Wow!! This is my first post since January! But... we bought a house, got all moved in and settled. Took a bit to get there and get to where I could start crafting again! On top of that I have been going to a boat load of doctor appointments in preparation of Gastric Bypass Surgery. We have been very busy here :) It is so good to be back!
For today, the first of March! Can you believe that!!! My oldest daughter will be 21 years old on March 9th!! WOW!!! I can't believe I have a kid 21!!! LOL Yikes!! And then my birthday follows closely after that. Getting old! HAHAHA!! Okay.. let me get back on track LOL!! Today is the new challenge at
The East Wind
!! We are on Challenge #26 and this is a Freebie Challenge with the theme of Doodle Doodle Do (add some doodling)!! I love to doodle! And this freebie is UnkyToons Craft Time!! AND I LOVE HER!!! But then... I always love Kyra's images!! And her HUGE generosity to give us such wonderful freebies each month!! AMAZING!!! So, be sure you are part of
The East Wind
group and have the monthly newsletter sent! Sign up now if you haven't... you certainly don't want to miss anything!! Here is what I've done: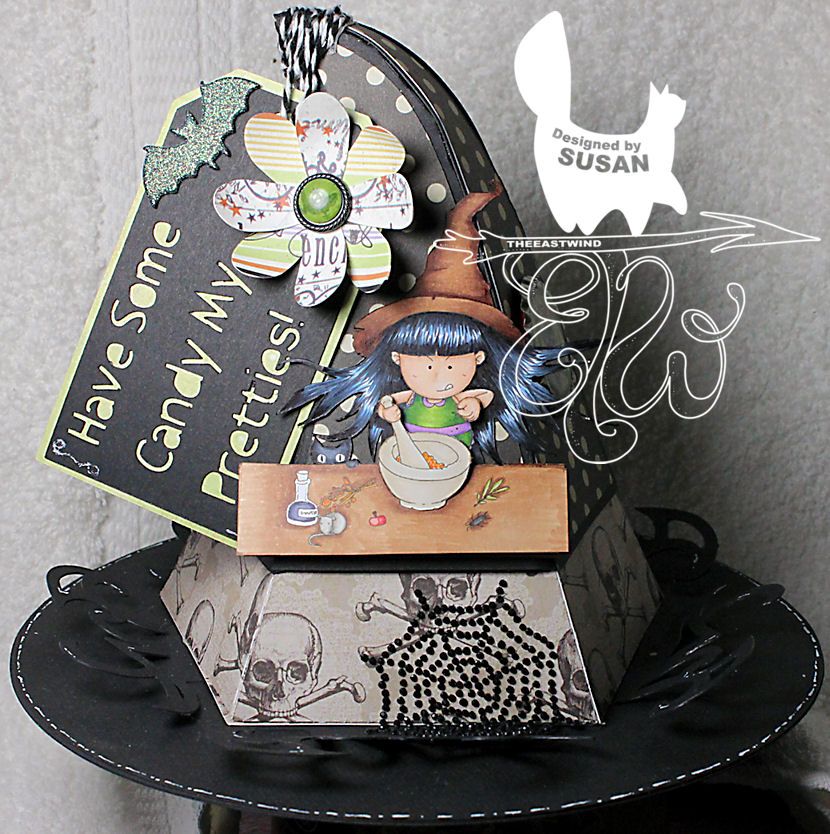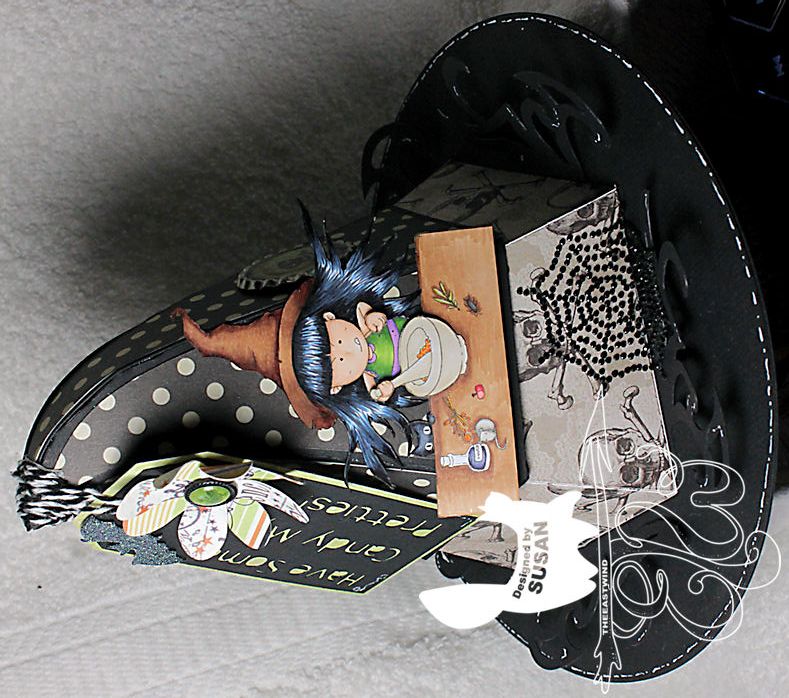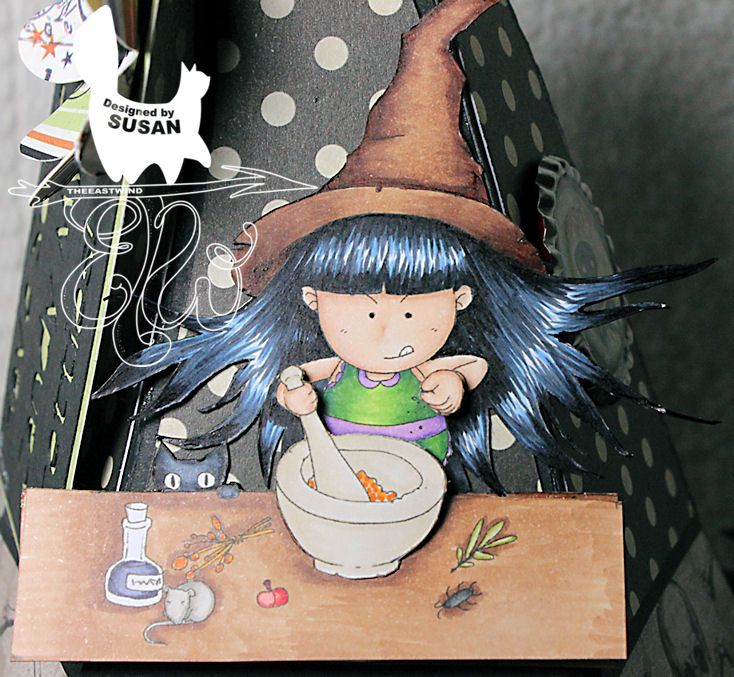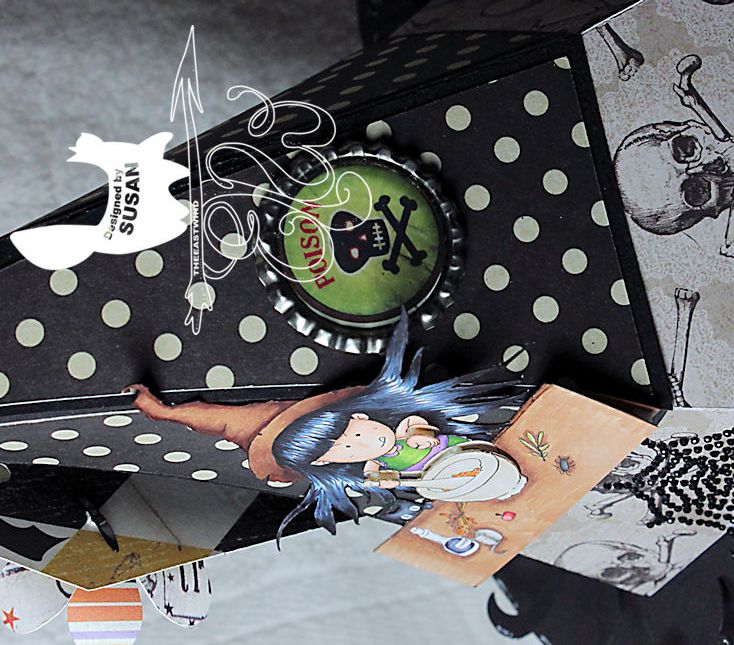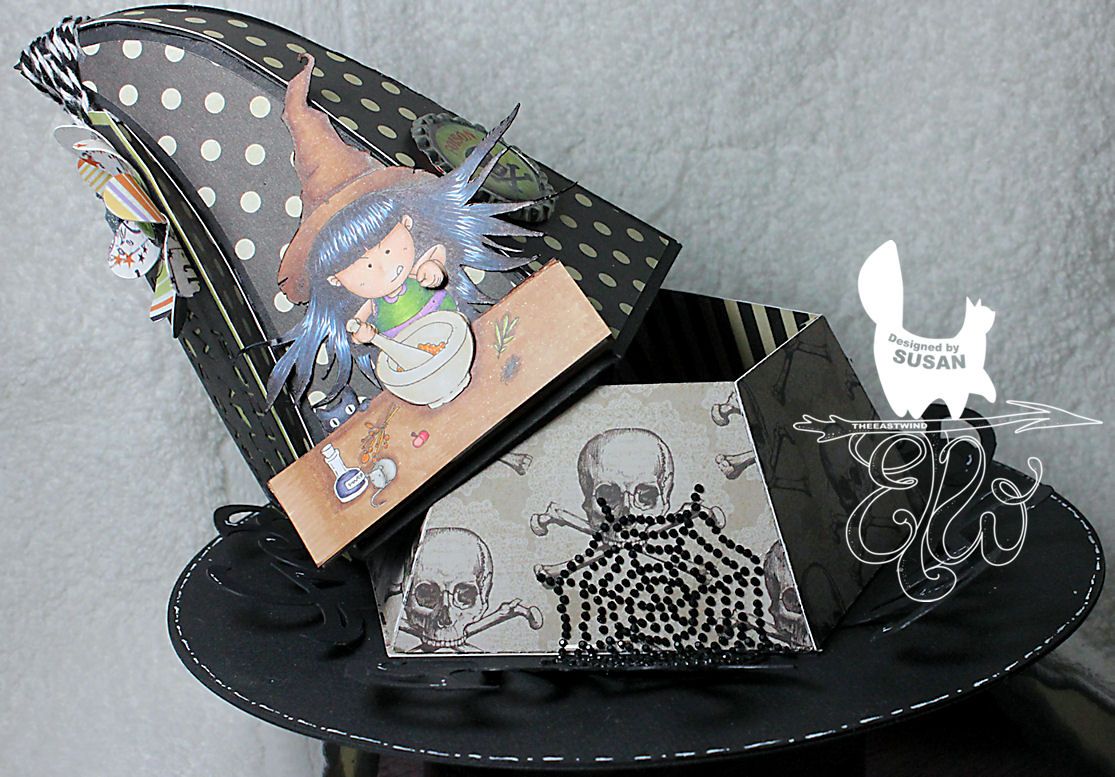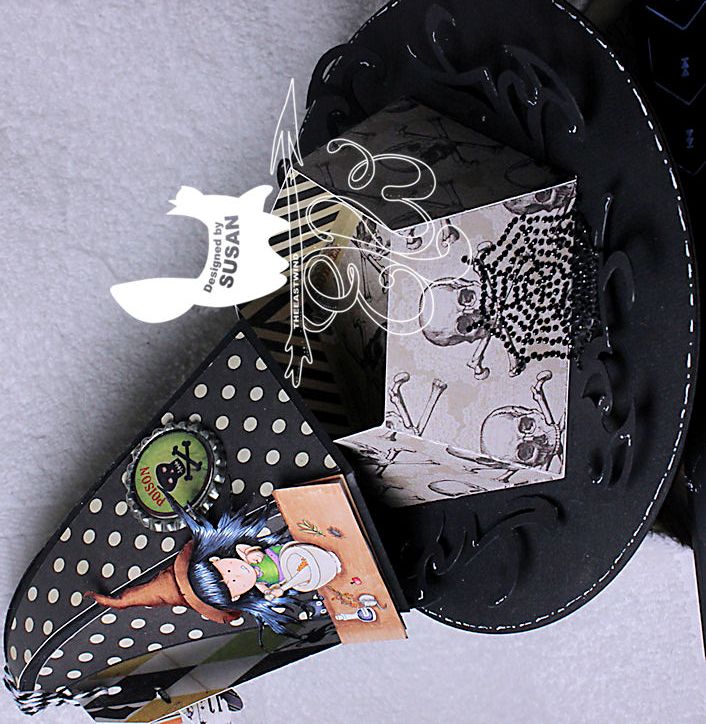 I was trying to figure out what I was going to do with this image and I saw this hat and thought... how perfect!!! So, off I went... cutting my pieces with my Cameo. The image is colored with my Copic Markers. I layered her a bit. All of the papers were out of my scrap boxes. I had quite a bit of Halloween scraps LOL And these were perfect I thought! I came up with the tag idea of 'Have Some Candy My Pretties' and cut it out with the Cameo. I added the bat sticker and the brad in the middle of that cut flower. I attached the tag to the top of the hat with a wrapping of twine. I also added a bottlecap to the side with the poison circle cutout in it and that is covered with Diamond Glaze. I also added two of those spider web stickers. Then I went to town doodling with my white pen.
Copic Markers Used:
Hair: B25, C7, C9, 100
Hat: E23, E27, E29
Skin: E000, E00, E01, E11, E13
Apron: YG03, YG17, YG67, G29; V12, V15, V17
Mortar and Pestle: E40, E41, E42
Liquid: BV23, BV25, BV29
Mix and Herb: YR15, YR14, YR18
Herb: YG93, YG95
Rat: W1, W3, W5
Roach: T6, T7, T9
Cat: C5, C7, C9
Table: E23, E27
Challenges:
I love making boxes or bowls... things that you can set around the house or at your desk. It is fun to make something like that! And I love the challenge!