Good morning everyone! And a very Happy Thursday! I hope you are all doing well. Me... well, I'm stressing at work these days. The VP's admin is leaving and he has decided that I should start doing the budget things for him when she leaves. That takes up about 70% of her day. I'm not really sure how I'm supposed to handle that and my job. He is a stressful kind of person too; really needy. We will see how it all goes I guess.
Other than that everything is going okay. My father in law is staying with us until September. It is nice to go home and spend time with my husband and his father. This was my first time meeting him in person and it has been really great.We are doing little things and will make a trip to North Carolina soon I believe. We have some places that we would like to take him. There is a huge Ten Commandments field that we want to go to. A trip to Maggie Valley would be nice too. Kevin will plan something.
Today I am sharing a card that I made for Amanda and Faery Ink! Amanda was kind enough to offer her team the opportunity to be published in The Complete Cardmaking Magazine. What a huge opportunity and I couldn't be more grateful!! That was months ago though and I missed the publication. It would have been my first publication too. How exciting :) Thank you Amanda for the opportunity!!
This is the project that was submitted by me: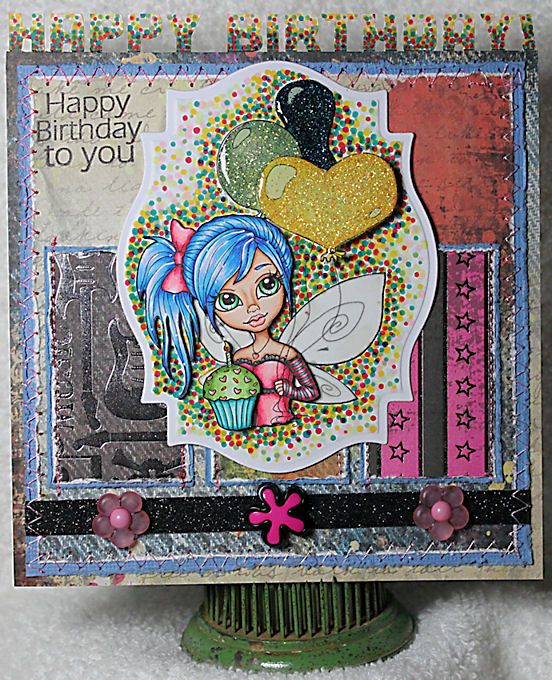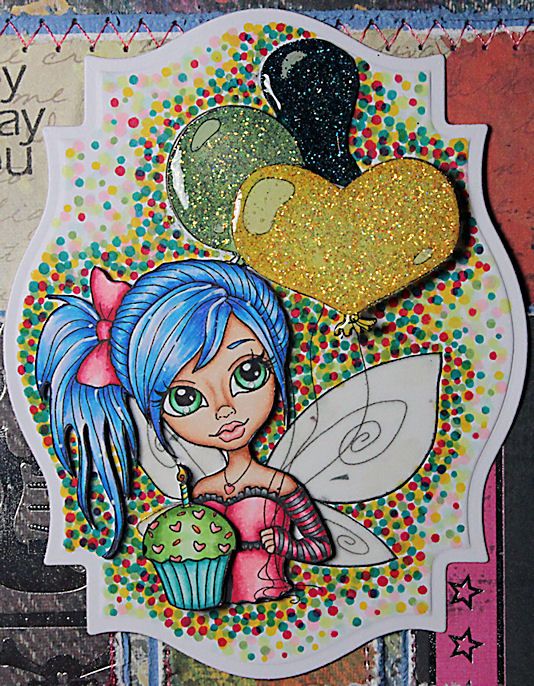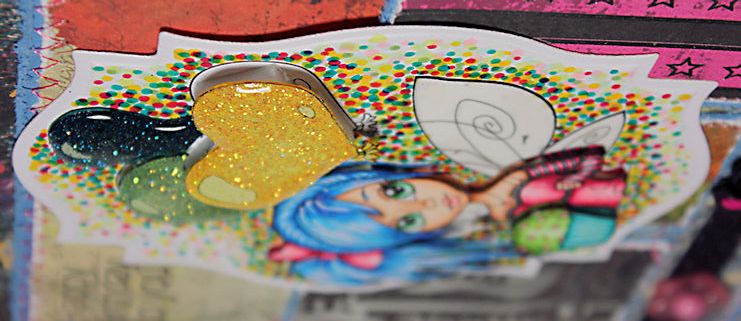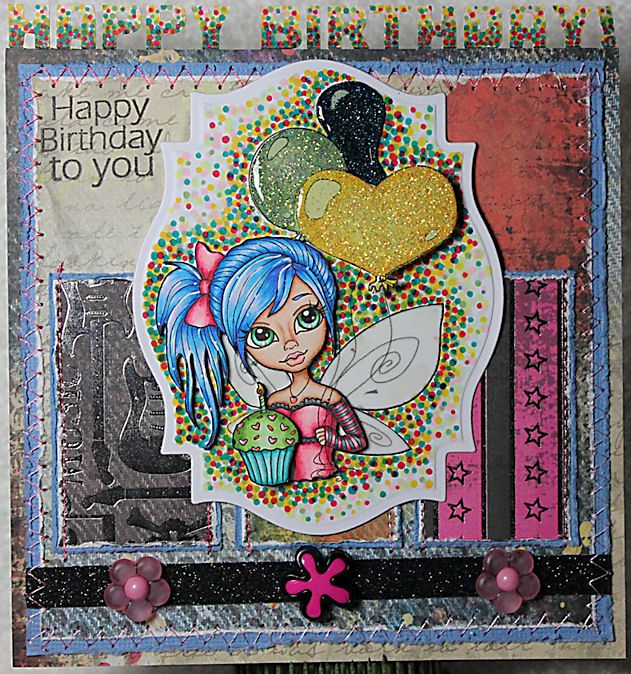 I had so much fun making this card, but I was really stressed too LOL! Needed it to be perfect! So, here it is! I used Gabbie Birthday Fae. I colored her with Copic Markers. I layered her several layers. I layered the balloons on different levels. I used confetti vellum for her wings. Then I popped her body up a level and then the cupcake up an additional level. On the balloons, they were covered in different shades of glitter and then on top of that I used Diamond Glaze to give them that shiny appearance. I used a white gel pen to add some highlights to her hair. For the top of the card I cut the "Happy Birthday!" using my Silhouette Cameo and I colored those the same as I did the background on the image. It was all done using dots with different colored Copic Markers. The papers are all DCWV Glam Rock. The lighter blue cardstock is from my scraps. I added some zig zag stitching around the card and some straight stitching down the smaller rectangles in the middle. I added the black glitter ribbon. On top of that I used three buttons from my stash. The image is cut with a label die from Spellbinders.
Copic Markers Used:
Skin: E000, E00, E01, E11, E13
Hair: BV00, B21, B04, B06, B26
Outfit: RV00, RV21, RV23, RV25, RV29; N3, N5, N7
Eyes: G00, G03, G07
Lips and Heart Sprinkles: R00, R20, R22
Sprinkles: YR12, YR18
Frosting: YG11, YG13, YG17
Candle: Y11, Y18; BG10, BG49
Flame: Y11, Y18
Cupcake Tin: BG10, BG45, BG49
Background: Y11, BG10, G20, RV21, BG49, RV29, G24, Y18
Challenges: